What is Appatella?
Nutshell? It deploys the therapies you construct to patients' phones.
Appatella combines a website and player application to construct and present video-based imitative therapies to participants.
It collects attrition data and subjective feedback, by consent, allowing research teams to make iterative changes and close the feedback loop.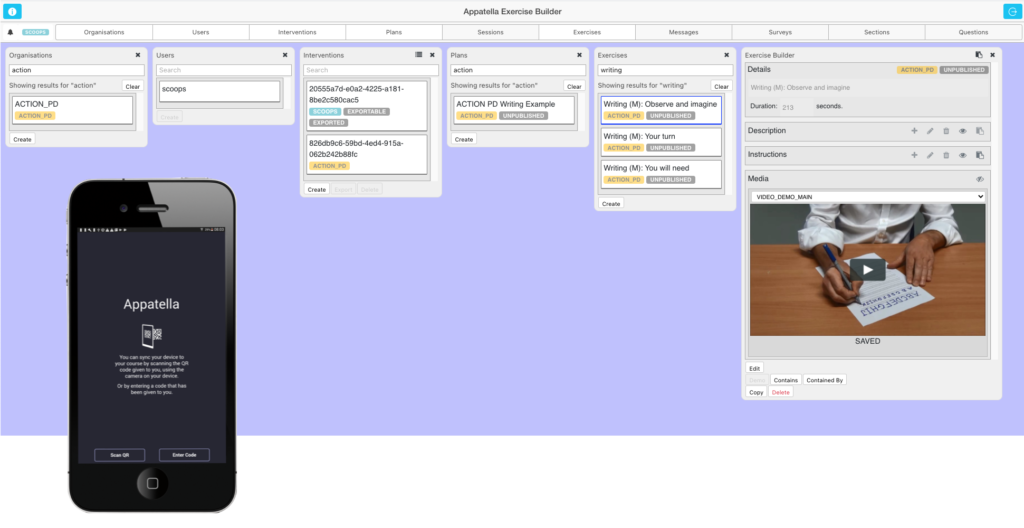 Who runs Appatella?
The Appatella project is run by the Faculty of Health, Psychology and Social Care at Manchester Metropolitan University.
Who created it?
Appatella has been developed in partnership with
Who has funded it?
Appatella has been developed using funding from:
What has RescueStation, CIC got to do with it?
We are a Community Interest Company, formed specifically to undertake the support of Appatella. It's our mission to bring it to more people who may help in its development.
Why should I be interested?
As a practitioner or a researcher, you may be aware that the digital deployment of therapies has many benefits. The App Stores offer many ways for consumers to experience a variety of therapies for many different outcomes. However, all is not as it seems.
A 2019 article in npj digital medicine underlined the need for consumer-quality evidence-based behavioural health applications1. The article described an under-regulated market in the App-stores, dominated by apps limited to simplistic therapies. Apps addressing more real-world therapies, having undergone more rigorous evaluation, tended to be available only through limited channels and presented users with an experience far less than their expectation. More recently, concern is ongoing2 with issues of privacy and maintenance, with practitioners still imploring greater regulation.
Appatella was designed from the ground up to focus on the transparent development of digital therapies, prioritising the protection of the end-user and the integrity of the development process. It's a different proposition entirely:
With a ready-made, clean generic 'player' app, participants get a consistent experience and researchers can focus on therapy, rather than app development.
With an on-line therapy builder, researchers can create therapies from component parts, test and deploy them and collaborate with others, exporting data for in-depth analysis as required.
Participant consent and an export tracking process means full GDPR compliance, and a review process ensures risk management is baked-in.
Thanks to the team at The University of Manchester, we have published trials available. Take a look at our press page.
References:
Carlo A.D., Hosseini Ghomi, R., Renn, B.N. et al. By the numbers: ratings and utilization of behavioral health mobile applications. npj Digit. Med. 2, 54 (2019). https://doi.org/10.1038/s41746-019-0129-6
Knox R., Tenenbaum C. Regulating digital health apps needs user-centered reform. Stat Aug. 3, 2021. https://www.statnews.com/2021/08/03/refor-regulatory-landscape-digital-health-applications/
Why am I here?
Well, hopefully you can help us, to help you.
Appatella is functionally complete, but not yet ready for a full release to App stores and practitioners, generally. We need to test it thoroughly, which means:
'At Scale': We need numbers. From several, to tens of research groups, each with dependent practitioners and participants. That's up to thousands of users.
Over time: Now that we have the basic system, we need to monitor how it's used – and make the necessary tweaks when people report problems.
We need support: We need funding and therapies to work on. Collaborating with us to trial the system will help us get closer to our goal of providing a service.
Let's talk more
Have you an idea for a digital trial therapy? Read on to see if Appatella might be for you. If so, please fill out the contact form and wait just a short amount of time for us to get back to you!
How does it work?
Appatella unites Researchers, Practitioners and Participants in the development of digital imitative therapies – that is, therapies in which participants are guided through a planned schedule of exercises by reading instructions and watching videos, before performing them by themselves.
The App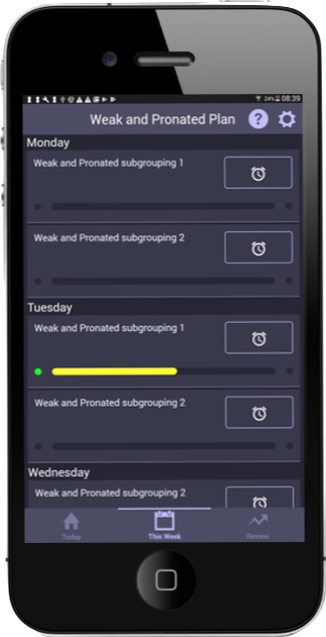 Participants download the Appatella app to their device. They obtain a token (more on this, later) for a course of therapy, and submit it to the app.

The app downloads their course – more formally known as an intervention.
After reviewing their privacy options and checking a description of the therapy they are about to use, the participant is taken to the app's home screen, where they can see the exercise sessions they need to complete for the day.

Tapping on a session gives the participant an overall description of what the session is for and some basic instructions for how to prepare. Then they are into the exercises.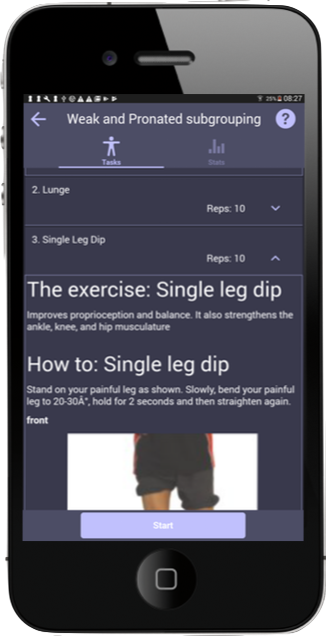 Each exercise in the session has its own description and instructions. There may be an accompanying video to help them.

They can't skip the exercises! Each one must be done before going on to the next. Of course, exercises and sessions can be repeated. And although exercises don't have to be physical, they all conform to the general form of: read the instructions; watch the video; perform the action; reflect.
Participants may be asked to complete optional surveys:
when they first download their intervention
at the start of an exercise session
at the end of an exercise session
at regular times throughout the duration of their therapy, but at points unconnected to their exercises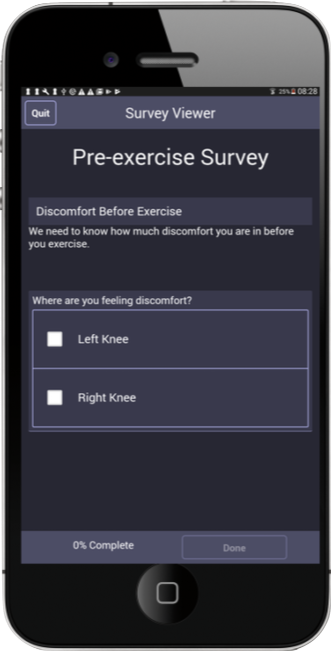 The participant can see the history of all the survey questions they have answered, using the app.

According to their privacy preferences, the app syncs the participant's performance data and survey answers to the Appatella cloud service.
If the participant has obtained their therapy from a practitioner, their progress can be monitored and, if necessary, their therapy plan can be tweaked, or even replaced by another more suited to the sort of progress they are making.
The researchers responsible for the development of the protocol behind the therapy plan can see its performance in all its deployments, using it to develop successive plans.
The Cloud Service
The cloud service presents a dashboard, from which all management activities can be performed.

Construction

Here's how therapy plans are constructed from their base components:
Plans are constructed from sessions. Within them are any number of exercises, breaks – for the participant to take a breather – and messages – for encouragement or information.
Plans may have a number of surveys, which themselves are constructed from sections and questions.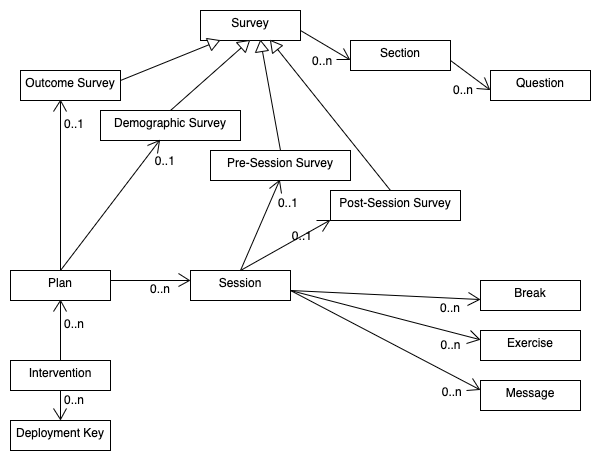 The dashboard lays out all these components as palettes, in which items are created and managed, and builders, in which they are edited.
All of these components can be constructed and shared.
Plans are published as

interventions and interventions are deployed to devices, using a special deployment token. The deployment token can be used once only, and makes sure that participants can't share interventions creating confusing data.
Deployment tokens can be sent to participants via email, or QR- scanned as part of a consultation with a practitioner, or via a dedicated website.
Interventions are upgradable with new plans. Old plans and any of their accumulated data remain intact.
Publishing
The publishing level at which therapy plans and their components (sessions, exercises, messages, surveys, sections, questions) are assigned defines how they can be deployed and consumed: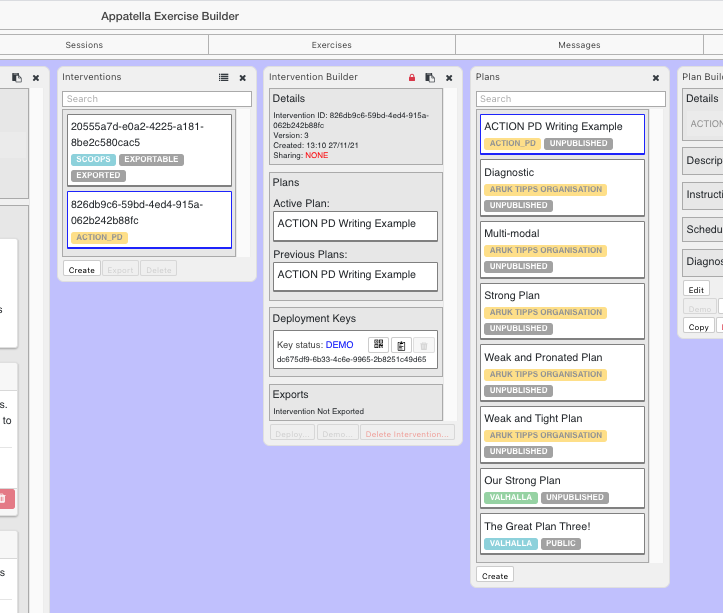 Unpublished: This is the state a component has when first created. In the unpublished state, it can can be deployed to only one device, for testing, and can't collect data.
Demo: When a component needs testing by a wider audience, it can be put into the Demo state. This means it can be deployed to other devices, but still can't collect data.
Published: With special permission, a component can be Published. This means it can be deployed to collect data.
Public: This is a special published state which means the component is available globally.
Roles
The use of roles and permissions for the practitioners and researchers which make up the users of the facility define what operations they can perform on components and data: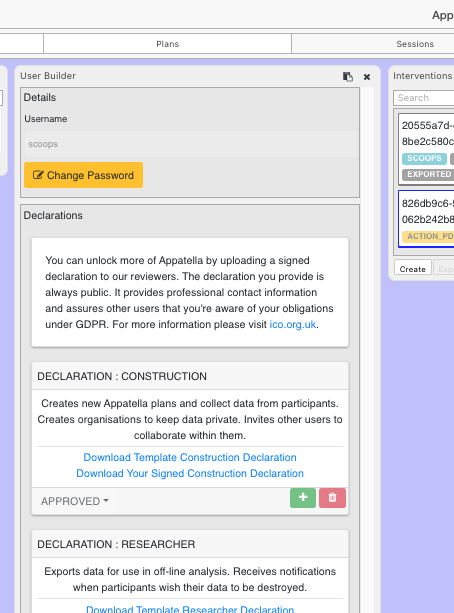 Members: New sign-ups to Appatella are only capable of deploying therapy plans as demos, which can't be used to collect data. In order to to anything more, they must fill in, sign and submit a declaration for vetting. In doing this they join a public register, so the declaration is vetted before it is published.
Reviewers: These are Appatella's gatekeepers. They have the capability to vet and confer roles on members, publish therapy plans and keep track of exported data.
Admins: Are capable of constructing
all components to a therapy plan and deploying them to devices. They can create organisational units, invite other admins to them, and transfer therapy plan components between them, while they collaborate on plans and their underlying protocols
Researchers: Are responsible for the export and analysis of data resulting from a therapy plan deployment to the device of a consenting participant. Data is always collected by the consent of the participant, and their consent can be revoked at any time. This is why Appatella tracks all exports; if consent is revoked for a deployment, all Researchers with affected exports are notified to destroy them and acknowledge.
Development Plan
Appatella was originally developed to diagnose and treat patello-femoral pain. We saw its potential for expansion to other imitative therapies back in 2017, and have been slowly working towards this since then.
In 2020, we completed work on the dashboard development, but the closure of our in-house facility meant we fell short of opening it as a full subscription service, as we couldn't test to the degree required.
Fast forward a year and we now have RescueStation, CIC – a not-for-profit company, finding a way forward.
Our immediate goal is to complete our testing and refining process, so we can get Appatella out there and helping people, with a release of the App to the App Stores.
Next is to formalise a company structure, around which we can delegate a full-time review and audit function.
Our roadmap then gets defined by the needs of our users. We hope that in response to our building this product, you will come and build a community in return, which can benefit many.