360 Tours: Affordable solutions to the problem of access
We've been working for Heritage Trust for the North West (HTNW) – a charity which preserves heritage sites and buildings at risk, finding better uses for them, so they can sustainably manage their own maintenance in perpetuity.
As Covid-19 began to bite hard, HTNW approached us for ideas which would open up their heritage sites to people if they weren't going to be allowed to visit.
First Look: Over a cuppa
We chatted about how we might re-create the feeling of walking around the buildings using a tablet, or phone.
We also talked about on-boarding: how people might find the digital content, if they couldn't enter the sites.
At the time, there was work underway to update HTNW's current website, administered by their affiliates, Gingerling, and the switch to a new domain to consider (here's the Before and After). Any work was going to need to fit in stylistically with this.
Of course, being a charity, it's really hard to find and put aside money for maintenance. Any solution was going to need to be highly attractive to visitors, but with no maintenance costs and a fast, easy way of pulling the plug when it's time to retire.
Technology Primer
That's alot to consider. Ruminating on it a bit, we produced this technology primer, to get across an understanding of what was possible:
The primer came out of a few days, putting together a demo, based on the BoHo suburb of Chorlton, Manchester (stick to what you know!).
A simple set of WordPress pages and a map to hold them together, with a link to a 360 tour, somewhere in the middle. Thanks as ever to the lovely folks at TeaHive, for letting us come in and make the 360 site of their cafe, for practice.
Here it is:
Key Points:
360 panorama photos create a fantastic immersive experience for the visitor
QR Codes are the cheapest, hardiest way of connecting physical to virtual
Photogrammetry is an engaging enhancement to high definition photos of artefacts
Low cost, high quality options are available
First proposal and contract
We costed out 5 360 tours, one for each major HTNW site.
Each tour would comprise:
linked 360 photo spheres, enabling a visitor to walk around
floor-plans for orientation
information pop-ups, to provide contextual information
360 video, to be able to experience a walk-around-tour, with a human tour guide.
Tours would be hosted online and displayed on a relevant page in the main HTNW wordpress site.
Equipment
Here's what we used:
We chose the GoPro Max, because of its video stability and 6K resolution. At the time it was the best 360 camera available under £1000. As a dedicated 360 camera, it would produce photospheres of adequate resolution. This suited the rather spread-out nature of each site: the visitor is touring, rather than inspecting, so it's quantity which counts; giving the illusion of strolling about.
Photospheres with hyper resolution aren't really appropriate for this sort of application: they are huge files, impacting on both storage and the responsiveness of the tour itself. They are also difficult to produce, requiring the stitching together of many individual images. Replacing the stitching of hy-res photospheres in the process reduced the labour by a factor of 10, making the whole project much more affordable.
We chose 3D Vista Pro, because of its excellent features, constant development and active user base. The big plus is that it's an offline tool; buy it outright, keep it. We shied away from online services like Matterport, because they require a subscription cost per project, including hosting.
We chose NCH Video Pad for video editing, as it supports 360 video.
We chose GitHub Pages as the companion to 3D Vista Pro. The 360 Tour tool will generate a single page web application which can be hosted on free-tier GitHub Pages – no hosting costs.
We chose YouTube as the video hosting. Also free.
We chose Mapillary to to provide a geographical context to some of the sites. In the Chorlton demo, we found it was great for touring around outside, looking around and seeing your location on a map, too.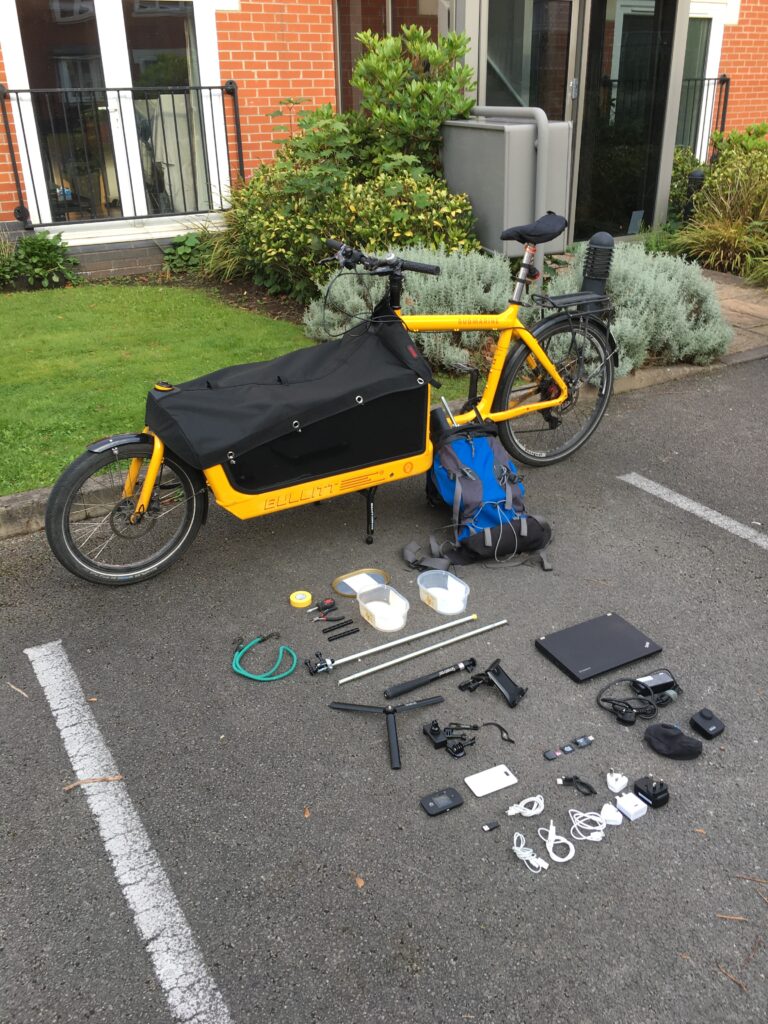 Contract execution
We visited each of the sites, budgeting a day for photography and video, per site. To keep production costs low, each video was shot as an ad-hoc guided tour. They look a bit rough and ready, but we felt that their spontaneous nature went well with the surroundings, which are often works-in-progress.
In the videos, a RescueStation stooge tours the site with the experts asking questions. We're indebted to Anthony Pilling, and Geoff and Christine Grime for appearing on the video tours with us, being such good sports and so knowledgable.
By the time we were ready for photography it was the dead of winter, 2020. Covid was raging about the country like a banshee and lockdown was about come come down with a clang. Despite this, we managed to get video tours done – safely – for 3 of our 5 sites, relatively early on.
Photography and video tours were completed on time. Video post production took a day per site.
360 Tour building took 2 days per site, including the linking of 40 photospheres per site.
Info points and mapping took about 5 days per site. ( This was the cause of some serious slippage on my part: although I kept to the timescale, I was unprepared for the shear amount of research I would need to do in order to fact-check and source photos with creative-commons licenses)
Take-aways?
At the end of this work, it was clear that the technology really did work to provide an engaging tour. The choice of the GoPro camera was the correct one for the sites: the emphasis on movement and getting a feel for the space more than made up for the lack of hyper-resolution.
Quality suffered badly in poor lighting conditions, though and there was a lot of work put in after-hours with trying to tweak the light levels and to make the grim weather less depressing. Traffic noise was pretty painful in some of the tours; NCH Video Pad has audio filters for post processing, but even they couldn't help.
A couple of the sites had panel-based interpretive exhibitions. Although recent, there was no digital graphic available, which could be dropped in. That meant taking a high resolution photo in-situ, and then post-processing to flatten and colour balance, before including in the tour as a zoomable feature.
Using the 360 tour software to embed the information points was fine, but there were so many of them, it would have been good to be able to index them in some way, or to provide some sort of search facility. We addressed this in the next project, and talk about it some more in the next post.
Mapillary was great, and we did use it discretely at one of the sites – but the branding was difficult to justify. Although nice to be able to explore the surroundings, it was very easy to lose sight the of main building and thereby its context. We did think of drones at this point – would have been nice to get a bird's eye view.
We really wanted to exploit some of the features of TrekView, too – for example, being able to put info points at a geographical location but again, there was little justification for this application. (maybe another project?)
Here's the tour for Grane Mill, Haslingden, with Anthony Pilling as your Guide. See what you think.
This was the first post in the series, looking at how 360 photography can be a cost-effective way of creating engaging content for your heritage site or museum:
Digital for Museums and Heritage 1: 360 Tours
Digital for Museums and Heritage 2: Infotainment
Digital for Museums and Heritage 3: Drones
Digital for Museums and Heritage: 4: Artefacts